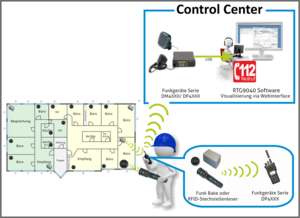 RTG9040 guard/personal security system
RTG9040 guard/personnel security system
For airports, prisons, industrial enterprises, trade shows or other objects, where large numbers of people congregate, security must always be a top priority.
The infrastructure-independent Real-TimeGuarding System RTG9040 records and monitors the rounds patrolled by the security guards online and also displays the positions of the protected personnel based on the beacons and checkpoints received.
The system vitally contributes to the security of the personnel and quickly provides the dispatcher with an overview of the overall situation and location of the guards by displaying the checkpoints and beacons on a map.